Digital FX Again Dominates Addy Awards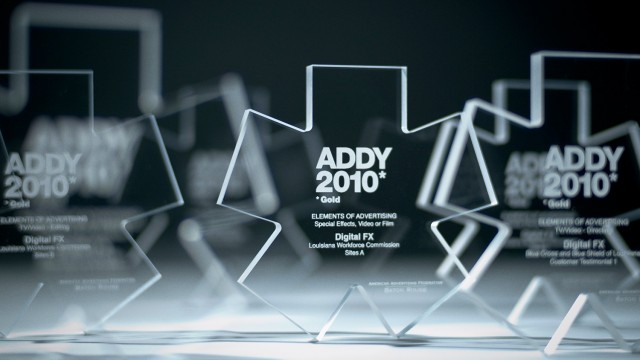 Date:

Author:

Digital FX

Tags:
Our work received 22 total Addy awards for our clients.
Adding to what has become an annual event, our work once again garnered the bulk of Addy awards for television productions in the Baton Rouge AdFed's Addy Award ceremony held Saturday. Our work received 22 total awards for our clients.
We received 11 out of 16 Gold awards for television production. Additionally, our work received 9 silver awards, a People's Choice award and was part of a Best Of Show award for mixed media.
Awards aren't our goal when we produce. Having said that, it's always nice to be recognized for our efforts. Our team here is second to none. We've got the best and most creative minds in the business and a collection of great clients. That's an unbeatable combination and this level of recognition makes that very clear.
Wright Feigley Communications, was awarded a Best In Show for mixed media. The award includes work in multiple formats, including our television production. The television ad was produced using a motion control system and the RED One Camera resulting in a state-of-the-art advertisement rarely seen outside of national advertising campaigns. Our work for Blue Cross and Blue Shield of Louisiana resulted in a People's Choice award, voted on by visitors to the Baton Rouge AdFed website. Diane Allen And Associates and Kerigan Marketing also received multiple Gold awards for work produced by us.
What these awards really do for us is to give our client's great confidence that we can, and do, produce the best television advertisements possible. When our clients are happy, we're happy.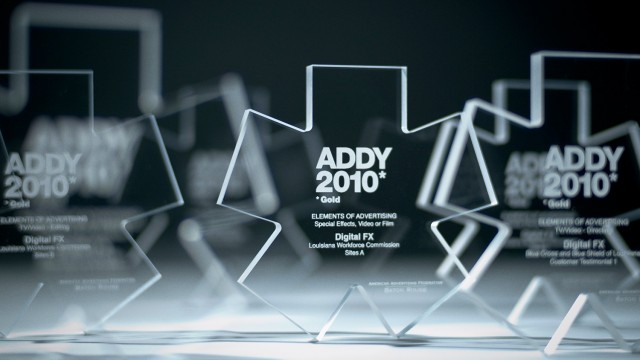 Our work received 22 total Addy awards for our clients.